So last Saturday I posted about my sister Annie's Goodwill dresser makeover.
And this Saturday I am sharing my sister-in-law Holly's desk makeover.
Apparently we have all been bitten by the bed bugs DIY bug(this is an inside joke with my family…just don't ask).
Holly started by sanding down the hand-me-down desk that once belonged to her grandmother.
Then she painted it a blue grey color.
The color is a Benjamin Moore color called Buxton Blue.  But she purchased Sherwin Williams paint. Much cheaper. They just matched the color for her.
Once the paint dried , she applied a couple coats of the Minwax Polycrylic Satin finish. It's about $17 at Lowes or Home Depot. She read about this in Barb Blair's book.
And I love how it finished the desk! So nice. And it's water based so it's easy clean up :)
She bought cool wrapping paper at Hobby Lobby to line the drawers. So cute to open the drawers and see fun paper :)
This is what she told me about the overall experience:
 "I prob spent about $140 on it between paint and odds and ends like sanding pads and paint rollers. I didn't have all the stuff I needed before hand. Now that I have all that though my next project will be much cheaper. My biggest expense was my $74 Anthro hardware. But I wanted cool hardware that made a statement so I was willing to pay for it. :)"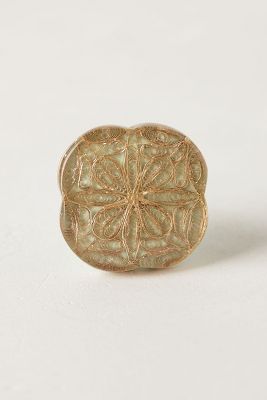 It looks great, Holly!
Happy weekend, everyone.
http://www.livingwellspendingless.com/2013/10/03/thrifty-thursday-week-30/
http://missmustardseed.com/2013/10/furniture-feature-friday-favorite-link-party-2/